10 Best Funny Meme Songs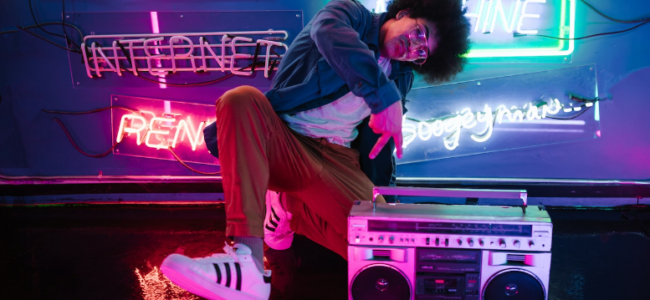 Memes are a fun way to brighten up your day. If you want to have a good laugh, funny meme songs can definitely help. As an integral part of social media, millions of memes are shared every day.
Memes can be images, videos or gifs.
If you want to create a meme that goes viral, you may want to use the most preferred media type: video. We're going to share the ten best funny meme songs that you can use and how to make your very first meme in Wave.video.
Table of Contents
Using Wave.video to Create Video and Image Memes
How to Create a Meme with Wave.video
10 Best Funny Meme Songs
There are so many funny meme songs out there, but none are as iconic, memorable and famous as the ten on the list below.
1. All Star – Smash Mouth
"All Star" was released in 1999 by alternative rock band Smash Mouth. It made waves when it became the main theme for the Shrek films a few years later.
Fast forward a decade and the song made its meme debut when YouTuber Richalvarez uploaded the Super Mario-themed parody "Mario, You're a Plumber." 
The video amassed more than 1 million views and thousands of comments over the years. It inspired other YouTubers to make their own parodies and mashups, solidifying the song's meme status.
2. Photograph – Nickelback
Nickelback's "Photograph" was released in 2005. Since then, it's been the target of countless parodies, video mashups and remixes, including College Humor's parody "Look at This Instagram," which gained more than 7 million views and 12,000 comments.
The original music video is prime meme material. The opening scene, where lead singer Chad Kroeger holds up a framed photograph, has been remixed and photoshopped time and time again. 
To this day, "Photograph" is one of the most popular and funny meme songs out there.
3. Never Gonna Give You Up – Rick Astley
"Never Gonna Give You Up" was released by Rick Astley in 1987 as part of his solo debut album. The song was a hit right off the bat, and decades later, it would arguably become the most famous, funny meme song on the planet.
The music video became part of the Rickrolling bait-and-switch prank that's still running strong. The prank involves posting a hyperlink that redirects the viewer to the "Never Gonna Give You Up" video.
4. My Heart Will Go On – Celine Dione
"My Heart Will Go On" was the main theme song of the wildly popular film Titanic released in 1997. The song is considered one of the most popular love songs of the 90s.
Despite winning so many awards, "My Heart Will Go On," received criticism in 2011 when it was voted one of the worst songs of the 90s.
Since then, "My Heart Will Go On" has been parodied and remixed many times, including a variation where the lyrics are altered by Google Translate. That version gained more than a million views.
5. Take On Me – A-Ha
A-Ha's "Take On Me" was a hit synthpop single in 1985, and today, it's one of the best funny meme songs. 
In 2005, the TV series Family Guy parodied the song in its episode "Breaking Out Is Hard to Do." A few years later, a parody of the video replaced the lyrics that describe what's happening in the video.
YouTube now has more than 20 million results related to the title of the song "Take On Me," and it remains one of the most popular funny meme songs.
6. Gangnam Style – PSY
The 2012 dance song "Gangnam Style" from PSY spawned hundreds of parodies and dance videos on YouTube. The original music video was the most watched on YouTube in 2012, reaching more than 1 billion views.
The "horse riding dance" that made this video so popular and iconic is what makes it one of the funniest meme songs to this day.
7. A Thousand Miles – Vanessa Carlton
The 2002 hit "A Thousand Miles" by Vanessa Carlton was a commercial success and helped Carlton snag three Grammy nominations.
 A few years later, the Wayans brothers and Terry Crews parodied the song in the film White Chicks. The parody inspired others, including YouTuber TwinkieMan's Vine remixes of the song. 
The parody scene from White Chicks has been uploaded countless times and received millions of views.
8. The X-Files Theme
The theme from the popular sci-fi series The X-Files has been remixed and sampled for a wide range of videos, especially those featuring conspiracy theories and montage parodies. 
The show's theme song was a number-one single in 1996 in France.
X-files is one of the theme songs that people can't get out of their heads, and it's often used in quirky memes where the person is being mysterious or doing something very unusual. You'll also find this song added to conspiracy-related memes.
9. Let It Go – Frozen
"Let It Go" is a song that you've heard before – trust me. The video has over 831 million views and is part of Disney's Frozen franchise. The song has been used for hilarious memes, both funny and adult memes.
A quick search for this song with "memes" has over 15 million results on Google, and this number continues to rise every day.
The song is a major hit in the meme world and at award shows. "Let It Go" won both an Academy Award and a Grammy Award for best song, and it is also one of the best meme songs of all time.
10. Harlem Shake – Baauer
"Harlem Shake" has been a hit since it was first released in 2012, and it's one of the funny meme songs that people often dance to in their memes.
There is no denying that Baauer created a beat that resonates with people and gets stuck in their heads. After all, in the last ten years, over 47 million people have viewed the song's video on YouTube, and it has over 336,000 likes.
The Harlem Shake hit the mainstream in 2001, but Albert Boyce invented the dance back in 1981. Thanks to this very song, Harlem Beat entered into pop culture through memes in 2013. As a sensation, the song has been used in authentic dance videos worldwide.
Using Wave.video to Create Video and Image Memes
Wave.video allows you to create video and image memes easily. Users can connect to the Wave.video platform using an Internet connection and never have to install an app or software to begin.
Instead, the platform is cloud-based, allowing you to begin creating memes in minutes.
You don't need to spend any money, either.
The free plan of Wave.video offers you the features necessary to:
In minutes, you'll be creating viral-worthy memes that people across the world will love. Wave.video knows that you might not be a graphic design professional or will need audio clips to enhance your memes.
Users gain access to an extensive stock library that they can use to:
Create memes

Enhance memes

So much more
When you're done editing your meme, you can use Wave.video to resize it for use on your favorite social platforms, including Facebook, Instagram, TikTok and YouTube. 
Click here to start using Wave.video for free.
How to Create a Meme with Wave.video
Once you sign up for Wave.video, you can begin creating memes by following the steps below:
Log into your account.

Create a "new project" from your account. (Sign up here)

Upload the image or clip you want to use, or navigate to "Library" and search for a stock option

Choose the format, such as 1:1, 16:9 or 4:5

Add text to your meme using the built-in editor

Download and share the meme
If you want to create a meme video, you'll need to take a few different steps. You'll need to log into your account, but then you'll need to do the following:
Click

Create

and choose

Blank video

Choose the video format

Upload your media or choose from the library

Click on

Audio

 

Browse through stock audio or click

Upload

to use your own

Finish editing your video

Download and share the video
If you follow these steps, you'll be well on your way to creating your own custom memes. These are memes that you can begin to share with your friends, family or the world on social media.
Conclusion
Memes are one of the world's most shared types of content. Add funny meme songs into your video, enhance your social media posts and give yourself a chance to go viral by creating your first meme with Wave.video.