10 Best Video Hosting Sites (Free & Paid)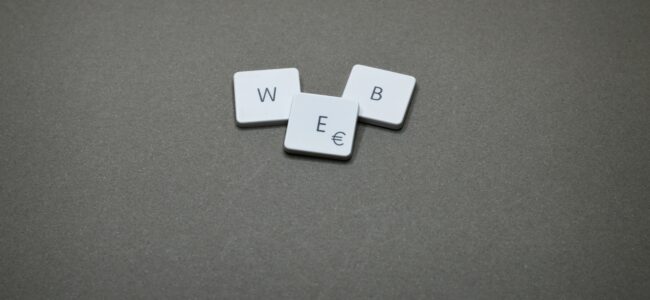 Are you creating videos for your marketing, website or other platforms and don't know where to host them? We're going to list the top video hosting sites, including free and paid options, which you can use to host all of your videos.
Table of Contents
Whether you're looking for free video hosting websites or you don't mind paying for premium services, we're going to cover the top video hosting for WordPress and all other platforms. Each host below has its own unique set of features, such as high-end editors, advanced analytics, collaboration tools and more.
10 Best Video Hosting Sites
1. Wave.video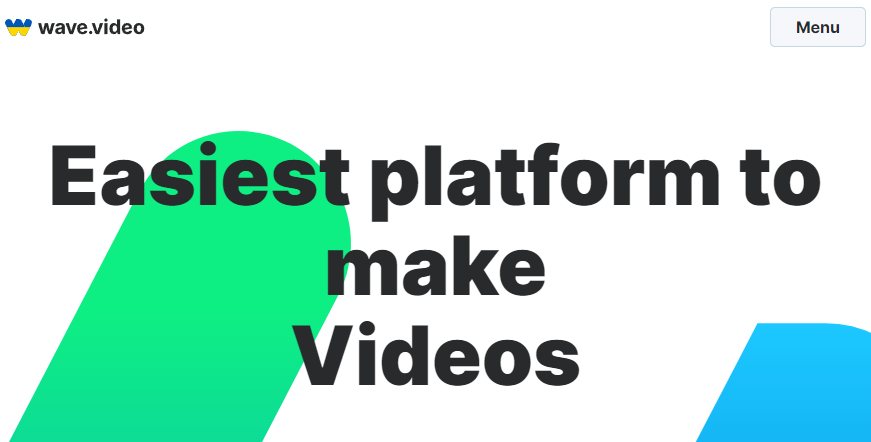 Wave.video is the leading solution for creating and hosting videos for advertisements, social media, web sites and more. Besides hosting features, this tool offers you a powerful built-in video editor where you create high quality videos in a few clicks.
Key Features
Free video hosting
Fully customizable player to configure it to your liking
Password control options for video access
Automatically create landing pages with your videos – perfect solution for video marketing funnel
Pros
Built-in watch time and video engagement analytics
Embed features to add videos anywhere you want – to your website, blog or landing page
Ad-free hosting. Let viewers enjoy your content right away not disturbing them with continuous advertisements.
Wave.video helps anyone create professional videos in minutes. With a stock library, video editor and streaming studio built into one, this is our top choice for video hosting sites to try this year.
2. YouTube

YouTube is one of the most famous free video hosting websites, and it has 2 billion users worldwide. You can add your videos to the platform, make them public or keep them private if you don't want them to be a part of YouTube's platform.
Key Features
Unlimited file storage.
128GB file size maximums.
4K maximum resolution.
Supports all modern video formats: MPEG, MP4, MOV, FLV and more.
Pros
Google's hosting is fast and efficient
Live streaming is available
Access to YouTube's community
Unlimited storage options
Basic video analytics
Cons
Ads shown in videos
Must adhere to strict terms of service
Lacks advanced editing
No video download available
YouTube is one of the world's leading video hosting websites, and while it's an amazing platform, it lacks the powerful editor like Wave.video and similar options. You'll need to use an advanced, third-party editor to create professional videos on YouTube.
3. SproutVideo

SproutVideo has a free trial and multiple plans to choose from. The platform is the go-to option for digital marketers and businesses that need advanced analytics that they can use to improve their lead conversion rates.
Key Features
Advanced video analytics.
Collaboration and sharing options are built-in.
Customizable player.
Maximum file size of up to 100GB.
Easy to embed videos on all major platforms.
Easy integration of Zapier, MailChimp and more.
Pros
Automatic quality adjustments for low bandwidth viewers
Playlists can be made
Advanced security at higher tiers
Multiple tier options
Cons
Advanced features available only in the two highest tiers
Login-protected viewers are not available on the lowest tier
Expensive, additional storage on the lower tiers
SproutVideo offers you a lot of control over your videos and insights that other video hosting platforms do not. However, the best features come with the highest tier, which costs $499 a month – not ideal for small business owners.
4. Vimeo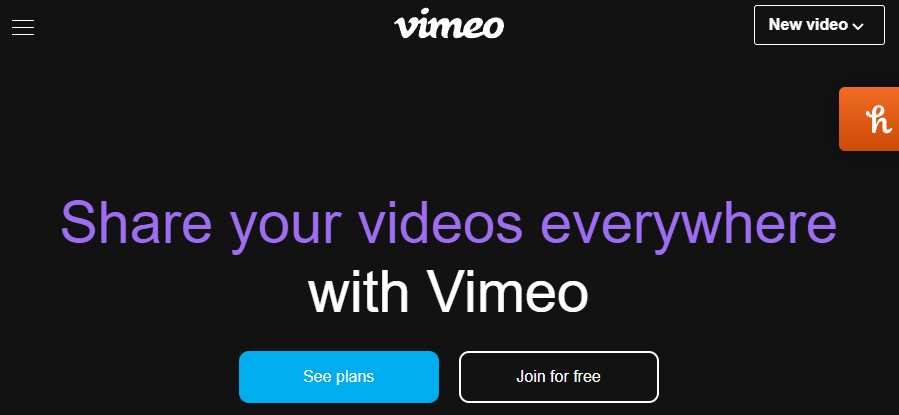 Vimeo is free to join, but it does have a few pricing tiers that add to the number of videos you can upload, add live streaming and incorporate marketing integrations. The power-packed platform offers a lot of features, including:
Key Features
Host videos for 100% free.
Support up to 8K resolutions.
100% ad-free hosting.
Sell your videos using Vimeo on-demand.
Pros
Q&A, polls and chats at higher tier
Video chaptering is great for businesses
Player branding at higher tiers
Template options available
Cons
500MB maximum for free videos
Basic video creation tools
Vimeo is one of the few video hosting websites that allow you to host videos for free without adding ads to them. If it weren't for the restrictions on the number of videos you can upload, this host would be higher on the list. However, the best features are paid.
5. Wistia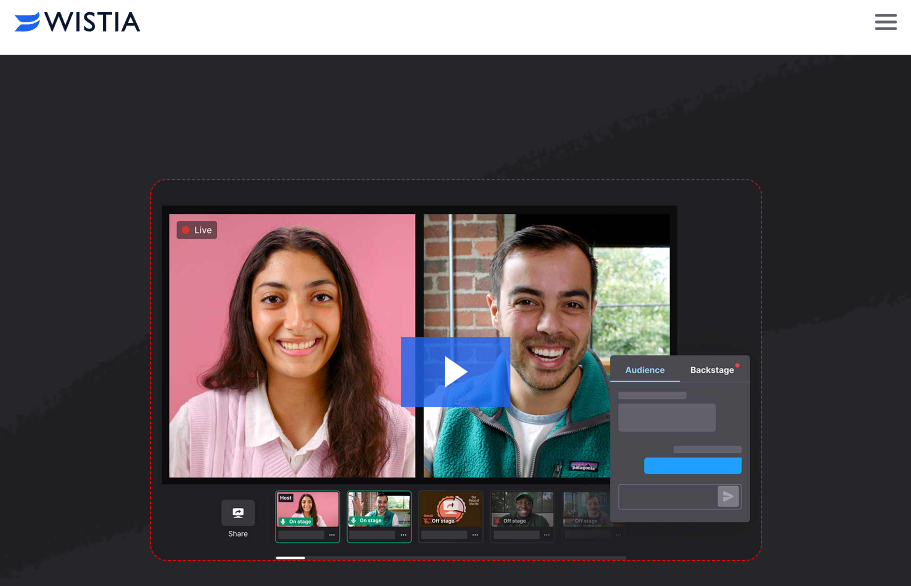 Wistia is ideal for educational courses and anyone who is running digital marketing campaigns. The platform is designed for video marketing, and there are a lot of plans to explore. The free plan allows 10 maximum videos, but the analytics are far less than the paid tier.
Key Features
200GB – 2TB storage, depending on tier.
Live video up to 4 hours at the highest tier.
Integrations for social media, email and more.
Heatmaps and A/B testing.
Customer success manager.
Pros
Extreme analytic information
Customizable player for professional videos
Live options at higher tiers
Event and registration options
Cons
8GB maximum video size
Lower support if not on the highest tier
Best features are expensive
Wistia is great in the professional marketing space because of its advanced heat maps, analytics, engagement tracking and more. However, if you're not a marketer, there are better options on this list.
6. Facebook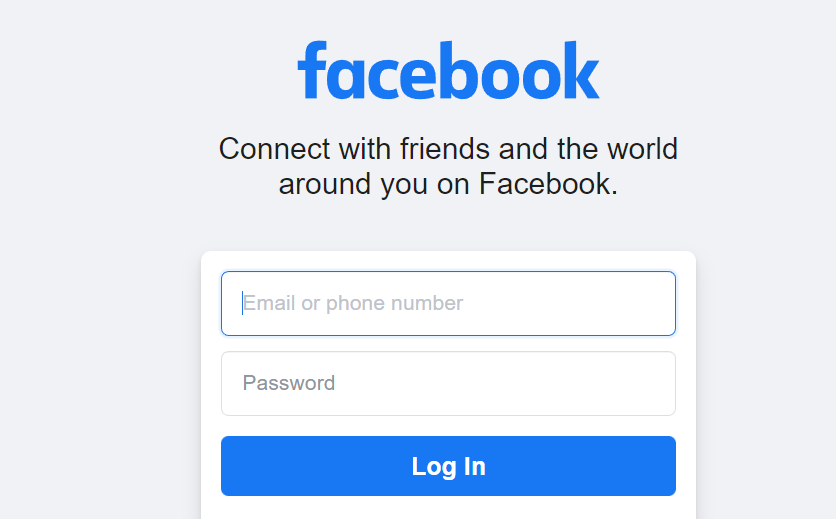 Facebook has more than 2.9 billion users across the globe. If you run a business, there's a good chance that you already have a Facebook page. But did you know that you can also use the social network as a video host?
While not exactly as robust as a dedicated video hosting service, Facebook is an option for those wanting a free solution.
Key Features
Simple video upload
Audience tools
Pros
Easy to upload videos from any internet-connected device
Control who can see your videos
Cons
No tools for video editing
Difficult to stand out in the crowd
Although Facebook offers free hosting and is easy to use, it's not an ideal option if branding is a priority. Because there are millions of videos on the platform, it's not easy to stand out in the crowd.
7. VEED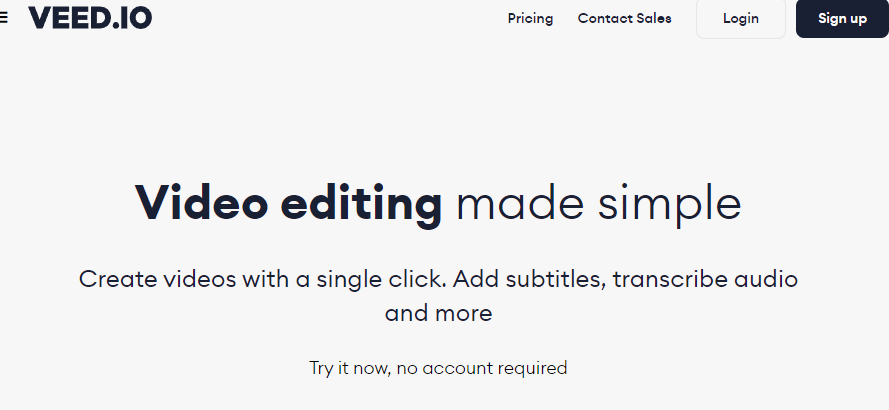 VEED promises to make video editing as simple as possible by offering a suite of tools for streaming, recording and more. Their video hosting feature allows you to store your ads on the cloud and share them ad-free.
VEED markets its video hosting as free, but there are stipulations.
Key Features
Upload, edit and share videos
Create subtitles automatically
Translate subtitles automatically
Pros
Web-based video editing tools save time
Screen and webcam recording
Subtitles and translations allow you to reach people across the world
Interface is easy to use
Cons
Free account is very limited
Tools are heavily focused on subtitles and translations
The highest subscription tier is limited to 200GB of storage
Although VEED is a robust video tool, it does have limitations. There's also a heavy focus on subtitle and translation generation. The highest tier of subscriptions is lacking in video storage options.
8. Vidyard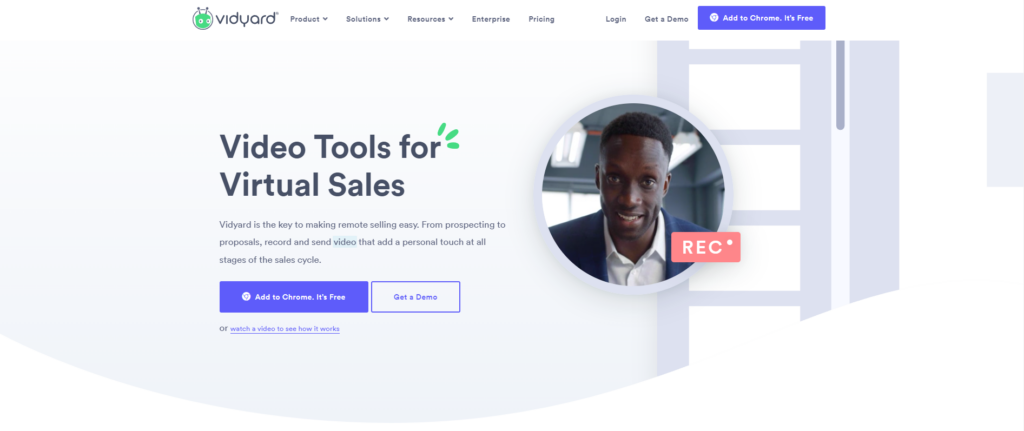 Vidyard is a video hosting tool designed for remote selling. The platform makes it easy to send video messages to prospects, helping you stand out from the crowd.
Vidyard claims their video tools can help boost response and close rates. Free and paid options are available.
Key Features
Video template library
Screen and webcam recording options
Send videos via LinkedIn, email, and more
Viewers activity tracking
Embed videos on landing pages and blogs
Integrations with Gmail, Salesforce, Outlook, and more
Pros
Easy to record and share videos
Analytics allows you to track views
Video SEO optimization
Automatic transcriptions
Cons
Minimal design and creation tools
Focused on marketing and selling
Vidyard is a great video hosting tool for marketers, but it lacks tools for creating and designing videos. Its focus on marketing and selling also makes it a poor fit for brand building and traditional video content.
9. Uscreen
Uscreen is a platform designed for video creators who want to monetize their content. Along with hosting, the platform offers tools to help creators grow their businesses.
Uscreen targets entrepreneurs and influencers looking to make their own video membership sites, so it's not a platform that's suitable for everyone.
Key Features
Branded video membership site with a Netflix-style catalog.
Tools for hosting professional livestream events.
Chat, comment, and messaging tools.
App-building tools.
Monetization tools, including subscriptions, donations, courses, tips, and more.
Payment processing features.
Pros
An abundance of tools for monetizing video content
Great for brand-building
Robust course and community features
Free trial
Cons
Only useful if your entire business is video-based
Storage is based on video length (e.g., 150 hours of video storage on the Growth plan)
Uscreen acts as a one-stop shop for entrepreneurs building video-based businesses. If video is only part of your branding and marketing efforts, it may be overkill to use this platform for hosting your content.
10. JetPack VideoPress
JetPack VideoPress is the go-to solution for video hosting for WordPress. Just drag and drop the video into the WordPress editor to enrich your content.
VideoPress is a paid plug-in, but it will save you a lot of time if you're a WordPress user. With this plug-in, you can manage your video content without ever having to leave your WordPress dashboard.
Key Features
Manage video content in WordPress Media Library.
Drag and drop videos into the WordPress editor.
Use Video and Story blocks for formatting.
Unlimited logins for team members.
Optimized for mobile.
Pros
Easy video management right in WordPress
Customizable colors for branding
No ads
Global CDN for quick speeds
Free trial
Cons
Only works for WordPress sites
Paid plans only offer up to 1 TB of storage
File size limit is 5 GB
VideoPress is a great secure WordPress hosting option for WordPress users with modest video content needs. But if you don't have a WordPress site or you have a video-heavy website, then there are better options out there.
Conclusion
Which of these video hosting sites is best for you? You'll have to try them out for yourself and weigh the pros and cons of each. We like Wave.video best for its advanced video editor, but you may find others offer unique features that you need to get the most out of your videos.