8 Best Video Editing Software for YouTube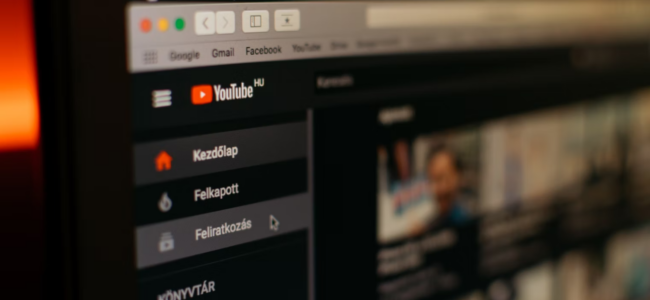 YouTube gets more traffic than Instagram, Facebook, Amazon, and Wikipedia combined. Every month, 1.7 billion unique visitors land on the site. If you want to start creating videos and your own channel, you need the best video editing software for YouTube.
Editing your videos will allow you to create professional-quality content that people actually want to see.
Table of Contents
In this guide, we're going to review the best video editors for YouTube. These editors will allow you to turn a raw video into a professional one, with sounds, music, intros, outros and exceptional audio and video.
We've done our best to provide you with a long list of editing software options for your videos. 
If you plan on starting your own YouTube channel and want to attract viewers and subscribers, you need to edit your productions. The options we list below will help everyone, including beginners and professionals, enhance their videos.
Video Editing Software For YouTube Reviews
1.
Wave.video

Wave.video is the best video editing software for YouTube on our list, and it's filled with features that professional productions require to get noticed. The following are just a few of the most impressive features:
No

download is required! Use the editor right in your browser.

Quickly begin creating impressive videos with a large selection of image and video templates made by professional designers.

Create thumbnails, intros and outros right inside of Wave.video – saving you a ton of time.

Access top-tier assets, including 300 million stock and royalty-free audio and clips.

Add subtitles to your videos either manually or through the automatic subtitler. You can even create backed-in subtitles or download the SRT file and upload it yourself.

Resize your videos instantly with the option to adjust aspect ratios to create promotional clips for your other social media platforms, including Instagram, TikTok and more.

Access advanced editing features for your text. Add animations, change fonts and more.

Use a built-in recorder and editor to create voiceovers inside Wave.video.
Pros
No download required

300+ million stock clips and assets

Voiceover editor and recorder built-in
Verdict
Wave.video has advanced features that make it easy for beginners to start their own channel today. You can quickly and easily start editing your productions to create professional videos within minutes.
2.
Animoto

Millions of people use Animoto to create and share videos with a drag-and-drop editor. You don't need experience to make great videos, and there are even templates that you can use to get started.
You'll gain access to:
Video templates

Screen recording

Webcam recording

Cloud-based editing and storage

Stock library (very limited on the free tier)
Animoto also keeps its own branding on your videos on the free tier.
Pros
Save templates on higher tiers

Multiple account options on higher tiers

iOS and desktop options

Large music library
Cons
Many features are locked behind the highest pricing tier
Verdict
Animoto is a great editor for YouTube, but many must-have features will require you to sign up for the most expensive tier. The mobile YouTube editing apps are a nice addition for anyone who vlogs or creates videos on their phone.
3.
Veed

Veed promotes its platform as the fastest and easiest way to create your own professional-quality videos. The platform is easy to use and comes with:
Auto-generated subtitles

Text formatting

Stock library

Music and soundwaves

In-browser editing

Auto-resizing

Live collaboration

Images and stickers

Annotations

More
There's a lot to like about Veed.io, including:
Pros
Feature-rich

Comes with demos and tutorials

Works right in your browser
Cons
Length restrictions for the free and lowest pricing tier
Verdict
Veed.io is a solid YouTube editor that will help you create high-quality videos and even demos. The interface is also easy to use, making it very beginner-friendly.
4.
Adobe Premiere

Adobe Premier is one of the most popular YouTube video editing software options in the world. A few of the most impressive features available on the platform include:
Large library of free content assets

Fast editing with Adobe Express

Highly accurate, automatic captions

Advanced editing features

Templates

Audio editing options
Pros
Access to Adobe Express for free

Edit and share clips rapidly

Free graphics, visuals and more
Cons
Verdict
Premier is a great video editor, but it's a very expensive option that may not be affordable for anyone who is just beginning their journey into creating YouTube videos.
5.
Final Cut Pro X

Final Cut Pro X is a powerful editing tool for Apple devices. It comes loaded with a variety of features, including:
Cinematic mode

Object tracker

Audio editing

Motion graphics

Color grading

Optimized for Apple silicon

Closed captions
Final Cut Pro X is a step up from Final Cut Pro and it's a powerful editor. However, it's only compatible with Apple devices.
Pros
Advanced cinematic mode and object tracking

Easy to create and edit motion graphics

Doesn't require a subscription
Cons
Only works on Apple devices
Verdict
Final Cut Pro is one of the better YouTube editing apps for Apple devices, but it lacks the cross-platform functionality to put it higher on our list. However, there is a very generous free trial period, making it perfect for anyone who wants to try it.
6.
Pinnacle Studio
Pinnacle Studio is an excellent option for beginners who are just getting started with video editing. Although less powerful than some other options on our list, the platform has a user-friendly interface that makes it easy to dive right into the editing process.
If you need more advanced features, you can always upgrade to a higher tier. There's also a free trial, so users can take the software for a test drive to see if it's the right choice for them.
Features include:
Color grading and correction

Selective color

LUTs and filters

Special effects library

Mask creator

Cloning

Combining clips

Creating custom transitions

Blending

Tracking 

Graphics and other effects
Pinnacle Studio has an impressive list of features, and the mask tool allows you to enhance your footage by brightening faces, blurring backgrounds and more.
Pros
Affordable

Easy to use

15-day free trial
Cons
Advanced features only available on more expensive tiers

Only available on Windows
Verdict
Pinnacle Studios is a great option for video editing if you only use Windows devices and are just getting started with video content. However, it lacks some of the features that are available with some other beginner-friendly software solutions.
7.
Shotcut

Shotcut is a free, open-source, and cross-platform video editing software program. The program works on Windows, Linux and macOS systems. The look and feel of the program should be very familiar to anyone who has used a video editing program in the past.
That said, the program is still complex and will take some time to learn how to use. Despite its complex design, Shotcut has several great features, including:
Support for hundreds of video and audio formats

Variety of options for device and transport options

Intuitive interface

Video effects, including filters, transitions, fades, deinterlacing and more

Trimming, muting and more
Pros
A large selection of video effects and filters

Cross-platform support

Work process automation

Multiple monitor configuration
Cons
No option to preview filters
Verdict
Overall, Shotcut is a great, free option for video editing. However, it does have a learning curve, and there is no option to preview filters.
8.
Lightworks

If you're looking for free YouTube video editing software, Lightworks is a great option, although it does have a learning curve. The program works on Windows, macOS and Linux systems, so it's very versatile.
The great thing about Lightworks is that it can be used for a variety of applications, from video marketing to vlogging and even personal use.
Lightworks comes loaded with many features, including:
The ability to import virtually any type of media

Support for any frame-rate file

Social media export options

Proxy workflows

Background processing

Autosave

Storyboard bins

Motion graphics and titling

Cloud connection
It's important to note that not all of these features are available on the free version. Three tiers are available with Lightworks, and many more advanced features are only available on the Create and Pro paid variations.
Pros
Powerful video editor that supports most media and frame-rate files

Easy export to social media platforms

Crop and edit timelines
Cons
Steep learning curve

Only paid tiers have advanced features
Verdict
Lightworks is an excellent option for beginners who are on tight budgets. However, the program does have a learning curve, and some of the more advanced features are only available if you pay for a subscription. Subscriptions can be pricey, and there are better options out there.
Conclusion
If you're looking for the best video editing software for YouTube, these programs are some of the top solutions available. Each one has its own unique advantages and disadvantages that should be considered carefully before making your decision. 
Wave.video is our top choice overall for ease of use and versatility, but you may find that another solution will work best for your video editing needs. Comparing and trying different software options is the best way to figure out which one will work best for you.