Best 8 Video Editing Software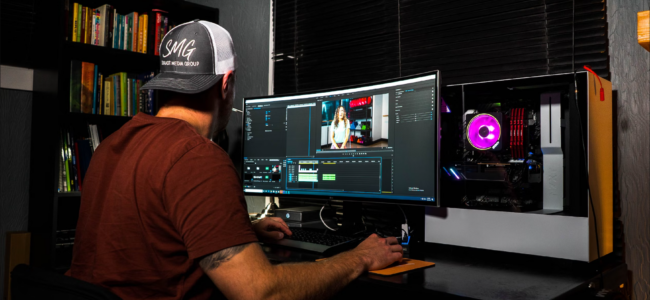 Are you trying to find the best video editing software? The right software will empower you to create stunning content, turn video clips into professional productions and allow you to edit on all devices. In this article, we'll be reviewing the top editing software for beginner and advanced video producers.
Table of Contents
8 Best Professional Video Editing Software
Vlogging editing software allows you to create professional videos to upload to your website, blog or social media platforms. Create stunning transitions, add text, adjust audio and more with the click of a button.
Our list below includes paid and free video editing software, along with pros, cons and our verdict on each solution.
8 Best Professional Video Editing Software
1. Wave.video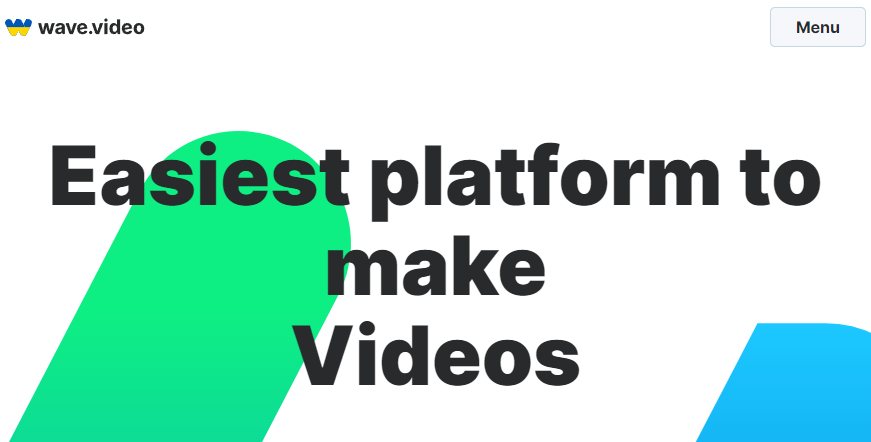 Wave.video is our choice for the best video editing software, and it starts with an intuitive video editor that you don't even need to download. You can use the platform right in your browser, so it's accessible to users anywhere in the world.
Powerful features help you rapidly edit your videos, including:
Advanced text editing allows you to use stunning visuals, animations and impressive fonts in your productions.
Edit and record voiceovers that you can place right into the editor.
Generate subtitles for your videos automatically. Instantly make your videos accessible and edit all created captions in minutes.
300+ million audio and clips available for free to enhance your videos.
1,000+ professionally created video templates that allow you to create videos in minutes. Plus, all of the templates are fully customizable.
The features that stand out most to us with Wave.video include:
Pros
300+ million stock audio and video clips
1000+ professional video templates
Instant resizing to your favorite video formats
Verdict
If you're looking for vlogging editing software that doesn't require installation, Wave offers 1000+ video templates and 300+ million stock audio and clips, Wave.video is a powerhouse. It's our top choice for the best video editor, and it's one that we're sure you're going to love using.
2. Apple Final Cut Pro X

Apple Final Cut Pro is developed to provide intermediate and professional video editors with access to multi-camera editing, HDR support and even 360-degree video editing. Non-Mac or iOS users will not be able to use this software.
Users can enjoy a 90-day free trial, a magnetic timeline, advanced organizational tools, hundreds of HDR features and cinematic mode.
The editing software offers a robust, feature-rich suite of tools. However, there is one drawback that you need to consider.
Pros
Multi-cam editing
Advanced color balancing and correction
Easy-to-use interface
Cons
Lacks advanced audio editing
Verdict
Audio editing is very important, especially if you're searching for advanced music video editor software. Final Cut Pro X is a major upgrade from Apple's iMovie software, and it has one of the best multi-cam editing and advanced color correction. However, the lack of advanced audio editing tools places it lower on our list than Wave.video.
3. CyberLink PowerDirector 365

Non-professionals will find that CyberLink's PowerDirector 365 offers one of the best video editing software options for non-professionals. You can use the platform on Windows and Mac, and it also gives you access to 360-degree video and multi-cam editing.
You can also have a 100-track timeline that is perfect when editing longer videos.
One of the features that few reviews mention is that this platform also provides an extensive list of royalty-free images that you can use. If you make use of images in your video or would like to do this, these free images are a nice addition to any editor. Video stabilization and AI features are also available.
Color correction options are also built into the software, but they're not as robust as our last choice. With that said, there's a lot to like about this video editor and one simple drawback.
Pros
100-track timeline
360-degree editing
Multi-cam editing
Cons
Verdict
PowerDirector 365 is a superb choice for beginners who don't mind paying a monthly subscription fee for their video editor. The interface is complex, so there's a learning curve for non-professionals that can make editing your first video a little challenging.
Overall, 365 is a strong video editor that lacks some advanced features that professionals will need when editing their productions.
4. Filmora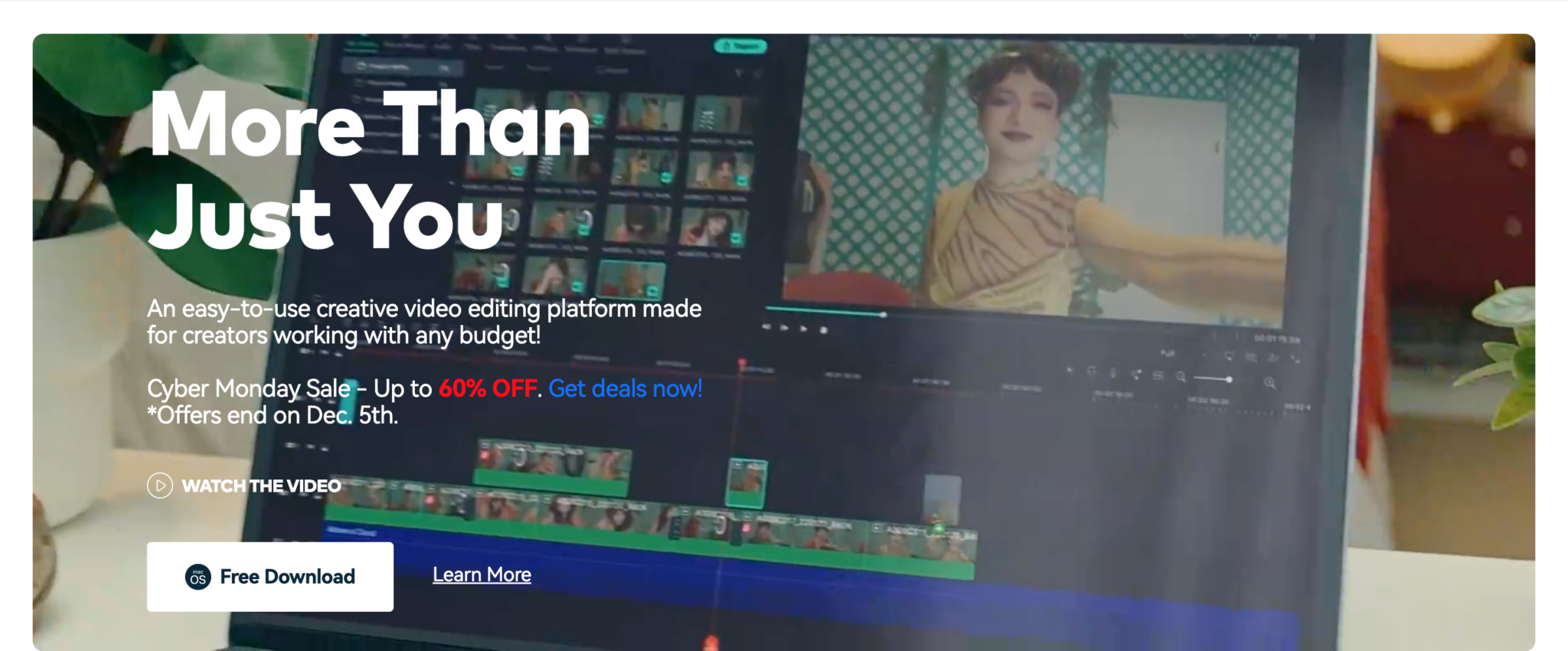 Filmora has a user-friendly, simple interface that makes it easy for even beginners to edit videos. Users can take advantage of the royalty-free stock media, smart templates, visual effects plug-ins and other features that help create great video content.
With Filmora, you can:
Add text, stickers, transitions and more
Drag and drop videos into the timeline for easy editing
>Add music and sound effects
Use more than 200 instant mode templates
Use speech-to-text to create subtitles
Use screen recording and more
Fimora has more than 77 million users in more than 150 countries, so it's a very popular video editing platform. The simple design and interface make it a great choice for beginners or anyone wanting to make simple video edits.
Pros
User-friendly interface
Hundreds of templates for easy editing
Easy to add audio and sound effects
Cons
No option for mobile editing
Plugins come at an additional cost
Verdict
Filmora is a popular video editing tool for content creators of all experience levels. While easy to use and robust, the tool makes it difficult to edit on mobile devices. Plugins that expand require an additional subscription, which adds to the cost of video editing.
5. Pinnacle Studio

Pinnacle Studio is a video editing software program for Windows devices. The platform offers a number of features to create more professional-looking videos, including:
Color correction
LUTs and filters
Selective color
Special effects
Overlays
Themed templates
Pan and zoom
Time remapping
Audio editor
The software also has built-in tools that are ideal for vlogging or creating content for your channel, including MultiCam capture and screen recording. These features are helpful for Twitch streamers and YouTube vloggers.
Pros
Powerful editing tools
MultiCam editing features
Big library of overlays, graphics, fonts, filters and more
Cons
Interface can be complicated to use
Not ideal for beginners
Verdict
Pinnacle Studio is a powerful video editor with advanced features that can really transform your video content into a professional production. However, there is a steep learning curve with this software, which doesn't make it an ideal choice for beginners.
6. Corel VideoStudio Ultimate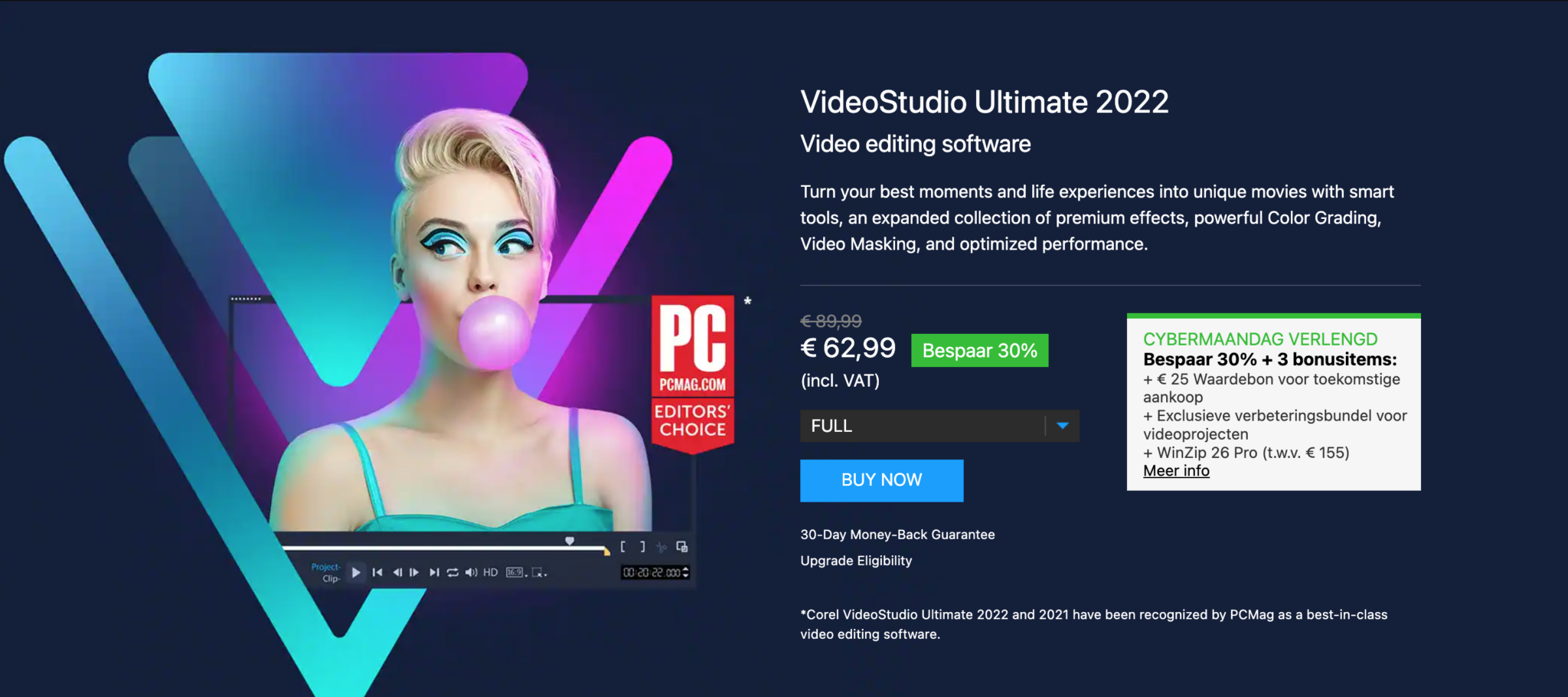 VideoStudio Ultimate has been rated as a best-in-class solution by PCMag. The platform has a wide selection of premium effects, masking, color grading, performance optimization and more.
The software has many features, including:
Trim, crop, rotate, split and resize
Lens and color correction
Title presets
Project templates
Filters and transitions
Animations tools
Audio tools
Corel VideoStudio Ultimate has a user-friendly interface and powerful tools to produce quality videos.
Pros
Easy to use
Variety of premium effects
Ability to edit and mix audio
Cons
Only works on Windows desktops
Limited web export options (YouTube, Vimeo only)
Verdict
While Corel VideoStudio Ultimate has an impressive list of features, it's lacking in some areas. For example, you cannot easily export to many web platforms. For users who are looking for a simpler video editor with more export options, VideoStudio Ultimate is not the ideal option.
7. Canva Pro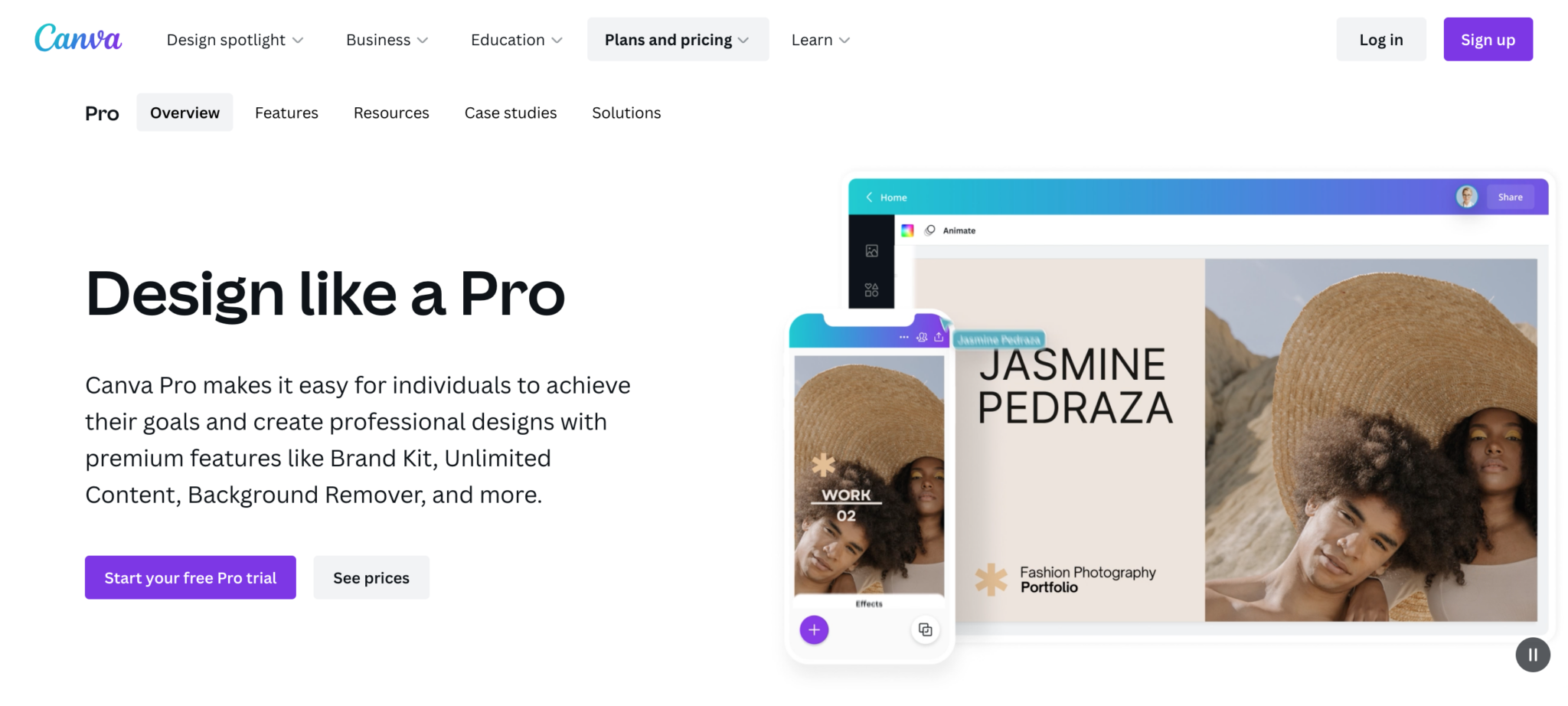 Canva is known for being a powerful graphic design editor, but they also have a video editor that Pro users can take advantage of. The editor has options for TikTok, YouTube, Instagram, Facebook and more.
Canva makes it easy to add text, graphics, transitions and more to your videos. Users can also trim, resize and split videos from one editor.
With a Pro account, you can also add sound effects, music, narrations, voice-overs and more. You can also use Canva's media content library, which includes stock footage, effects and more.
Pros
User-friendly interface
Drag-and-drop features for easy editing
Easy export to your preferred platform
Cons
Limited editing options
Trimming videos can be tedious
Verdict
Canva Pro is an excellent option for basic editing, but if you need features like color correcting, filtering, or blurring, this solution isn't for you. For basic edits, it doesn't get much easier than this drag-and-drop editor.
8. DaVinci Resolve

DaVinci Resolve is a robust video editing tool used by professional filmmakers. The platform combines editing, color correcting and post-production editing in one tool.
Users can collaborate with others, create overlays, add subtitles, correct colors, incorporate 3D graphics and more.
DaVinci Resolve also makes it easy to render videos for social platforms like YouTube and add effects, like light effects, blurs, beauty enhancement and more.
Pros
Professional-level quality editor
Free version
Editor, color corrector and post-production tool one
Cons
Expensive
The free version is limited
Complicated functions
Verdict
DaVinci Resolve is a powerful and robust video editor, but unless you're a professional, it may be a tool that's more advanced than you need. For the pros, it's the standard editor used in the film industry, but for content creators, there are better options on this list.
Conclusion
These are the best video editing software solutions out there. Whether you're a beginner or an experienced user, you will find a platform that meets your needs or budget on this list. Consider your needs now and in the future when choosing a platform to ensure it can grow with you as you expand your content.