How to Make Your Video Stand Out on Facebook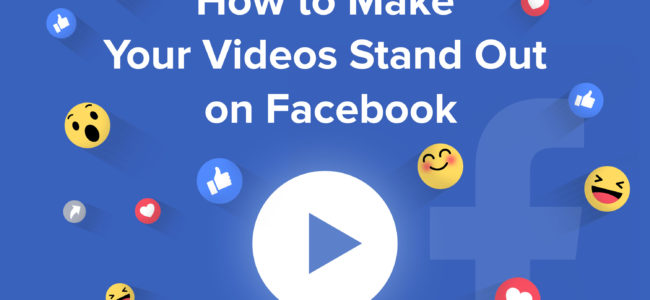 With the overwhelming growth in video viewing on Facebook, more and more businesses are driving awareness and sales with video ads. Opening the potential for brand exposure, the medium is certainly going to see greater investment from Facebook in the future.
However, with all of the content shared on social media, getting in front of an audience is becoming much harder. If you're already creating video ads for Facebook, you know the bigger challenges: attention should be grabbed immediately and, ideally, with the sound off (as most of the content is consumed via mobile). In this article, we examine ways businesses make their videos noticeable.
Quality is King
First and foremost, it's always quality that makes your content stand out. Go with a clear message accompanied by bright visuals that grab attention in the news feed. Look how Visa effectively does this with animation.
There are certain reasons animated videos can be a useful tool for building your brand, and with the availability of tools like Animatron it's now possible to create high-quality videos on a budget.
Provide value
Second, provide value or make an offer your audience can't refuse. It can be a timely one, like Macy's Wish Writer to create letters to Santa. The better you know your audience, the more efficiently you can appeal to it.
Keep it simple
Up to this point we've been talking about visual engagement, but good writing matters too, especially when 85% of videos are viewed via mobile devices (read with the sound off). Keep it simple and credible about your brand, like American Airlines does in their video.
The goal of ad copy is to get an action or reaction out of the viewer. On Facebook, you can include a CTA button to your video ad, so end with a promise of benefit that focuses on the click.
Make it personal
Don't be afraid to add personality and connect with your audience on that level. Tell an intimate story using a video, like Kleenex did in honor of Neonatal Nurses Day. In this touching video, a beloved NICU nurse gets a surprise visit from a grateful group of parents and their children. If this doesn't break your heart, check how people responded in comments.
Go for Facebook Live
Finally, consider Facebook Live as a part of your marketing strategy. It's a proven and powerful way to connect with your audience and grow it in new ways like breaking news, behind the scenes, Q&A, and customer spotlight, among others. It doesn't have to be perfect to be authentic. BuzzFeed once used Facebook Live to host an interactive dance battle and their audience voted on performances and submitted suggestions for dance moves.
On social media, videos provide more engagement and higher click through rates than any other ad types. Brands who don't use them will be eventually left behind by those who stand out to appeal to their audiences. Make your next video ad with our advice in mind, and let us know how this improved your marketing.
Get Your FREE Checklist and Increase ROI on Social Media Video Ads