Animatron Editor Main Menu and Project Sub-Menu
I am happy you were intrigued with Part 1, and that you've found your way back! It would seem that a little trickle of knowledge goes a long way when you know there is SO MUCH MORE to be learned about the Animatron Editor. Well then, let us continue our tour of the Editor Workspace, shall we?
The Main Menu contains a few helpful goodies that can assist you with your project workflow, so let's explore.
Main Menu
The Main Menu is used to create, edit, test, upload, download and publish your projects.
Popular tech industry leaders, like Apple and Microsoft have used their company logos as the main access button to their software menus since their infancy. The Animatron Editor continues this tradition by granting you that same, familiar access with the Animarton icon located at the top-left of the Workspace.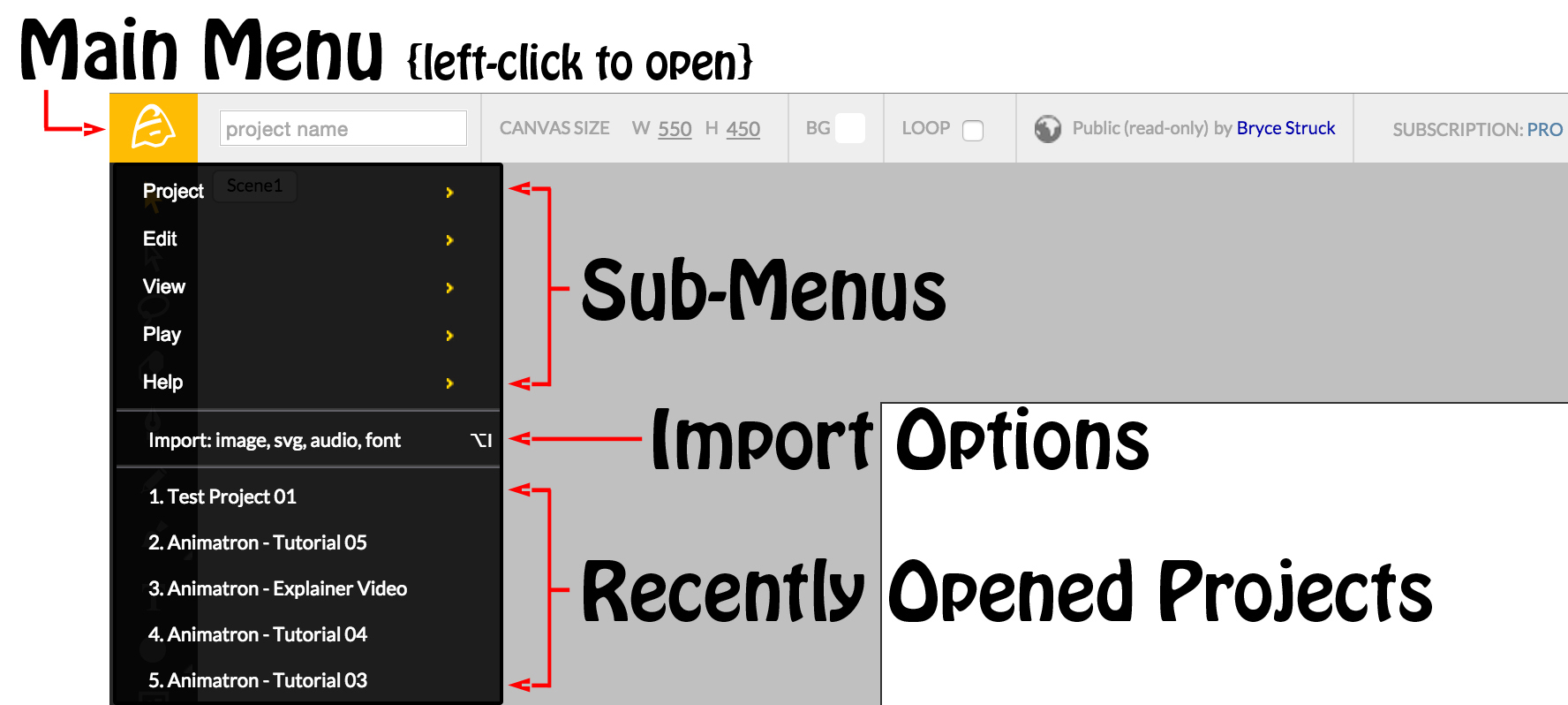 By clicking the Animatron Icon, you should now be able to view the Sub-Menu drop-down list, depicted above.
The Main Menu contains a list of project Sub-Menus, an Import Feature and also allows you to view your recently opened projects.
Let's examine each Sub-Menu.
Sub-Menus
The first Sub-Menu, labeled [Project], opens a new drop-down list of project options, shown below.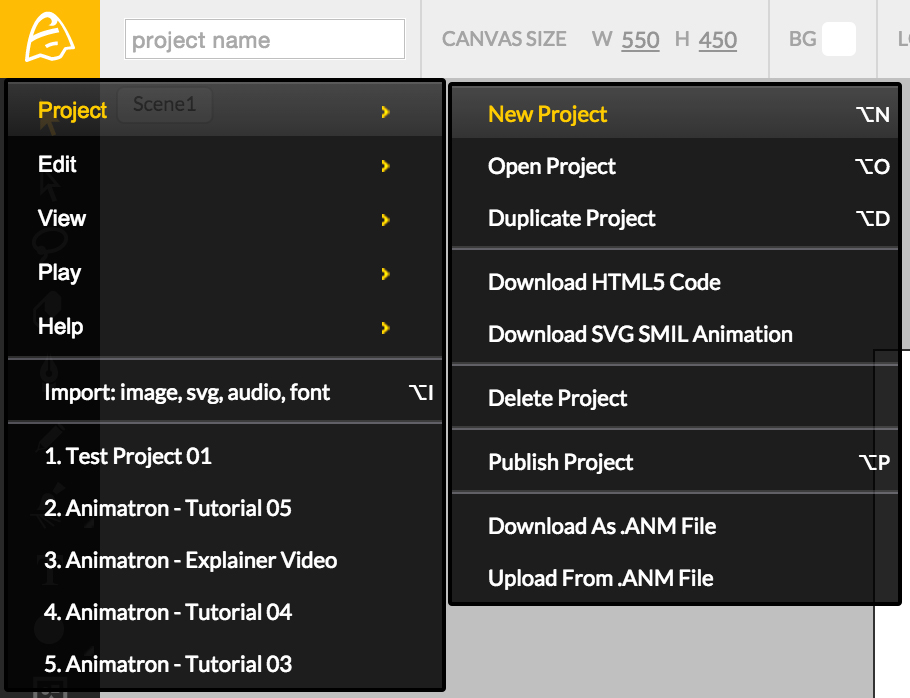 From top to bottom, you can:
Create a New Project
Open an existing project by clicking on Open Project. This will give you the freedom to select projects from your own User Account or other projects that have been shared with you by viewing them in a gallery-style layout.
You can Duplicate Project, should you wish to save an exact copy. This powerful option even allows you to duplicate other user's public projects, perfect for exploring how they constructed their scenes! Simply, open the other user's project in the Editor and see if they allow you to duplicate it. If so, just start digging through their graphics, animation layers and timeline!
Further down the list, we can see options to download your current project in multiple formats, HTML5 and SVG SMIL Animation. These download options are useful for web designers and developers that wish to embed the source code or animation, directly into their own websites. However, these options are only available to those who have paid for an Animatron subscription. Download SVG SMIL Animation with at least a Starter Subscription, and must go PRO in order to Download HTML5 Code.
Beyond that, you can choose to Delete Project, which will remove the current project from your User Account's project library. Be certain you really wish to delete your current project and all of it's scene assets before choosing this option, since this process is final.
You can choose to Publish Project, which uses the default publishing parameters unless previously changed in your publish settings (shown below).
At the bottom of this list, you have the option to Download As .ANM File, which allows you to download and save the project source as an .ANM file, directly to your computer.
Lastly, Upload From .ANM File allows you to open a previously saved project from your computer.
With more than a few Sub-Menu options to choose from, it only makes sense to continue exploring each one further. We invite you to resume the tour with our next look into the Edit and View Sub-menus, in part 3.
See you, then!
To be continued…