How to Make Your Own Political Cartoons With Animatron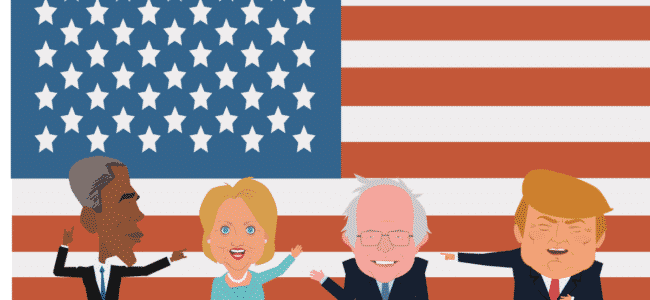 It feels like the whole world has their eyes on the US 2016 presidential elections. People take sides, make bets, discuss and argue who the next US president is going to be. If you have been following the news (or even just browsed the Internet recently), you probably know that these elections are among the most controversial ones in history. With less than four months until the Big Day, the debates are only heating up more every minute.
How will the elections end up? Who is going to be the president? The good news is that now you can take control over the situation! With the new free Political Set introduced by Animatron you can now create your very own political cartoon and make candidates do and say whatever you want. We have prepared a full set of animated candidates running for President and added other prominent figures to help you make your animations more fun and engaging.
You can bring your political cartoon ideas to life in these four easy steps:
1.Open the Editor and choose the Political Set.
2.Place pre-animated characters on canvas.
3.Upload your own images or audio files to make your cartoon more live. Check this tutorial to learn how.
4.Download the cartoon or share via social media or direct link. This tutorial will explain the process in detail.
Why are we so excited about the Political Set?
We love all our animated sets but this particular one turned out to be very realistic and funny. There are numerous ways you can use it:
Practice political humour. Ever wanted to create your own funny political

cartoons

and political videos? Even if all you did before was re-twitting editorial

cartoons

from The Washington Post, Animatron now empowers you to make your own animations in minutes, easily.
Teach political

cartoons

and history. Animate primary debates, create political

cartoons

lesson plans, study eloquence and theory of knowledge by asking students to write speeches for the candidates. Make your students excited about learning! * Create animated infographics. If you are blogging about the elections, the Political Set is a great resource to boost your content marketing. Here's an example:
Make funny GIFs to share with friends. For whatever reason, people love animated images: they are great for sharing emotions, explaining ideas or mere

entertainment

. With Animatron, you can use pre-

animated characters

to create your own animated GIFs to be used in social media, blog posts or anywhere else.
Want to illustrate one of the candidates' speeches or just have some fun? Try it now!
create your own cartoon