What Is a Whiteboard Animation and How to Create One Yourself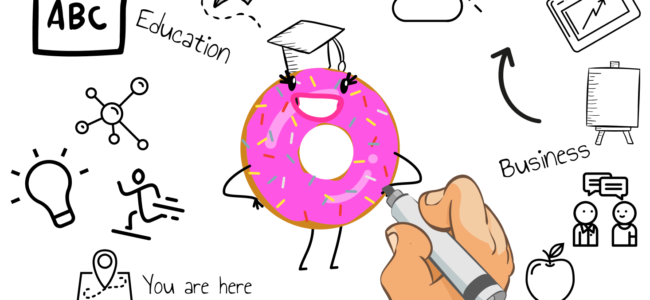 Animated videos have become extremely popular among marketers and small business owners. Studies after studies show that animation is a great way to attract viewers, capture their attention and get the message across.
However, it seems animated videos used to be a novelty several years ago. Now almost everyone uses animation to promote their business, and it is becoming more difficult to stand out from the crowd of animated explainer videos, presentations and demos. Think about it: out of 70 best explainer videos collected by HubSpot, Video Brewery, Demo Duck and Switch Video, 50 are animated. How do we get a message across while still benefiting from the popular video style?
The answer is simple: whiteboard animation.
So, what is a
whiteboard

animation

exactly?

Whiteboard animation is a process where a story or a storyboard with pictures gets drawn on a whiteboard or something that looks like a whiteboard (hence the name). They are videos that draw themselves. Originally, animators would record themselves in the process of creating such animations. Viewers would follow all their steps and see the story unfold.

The actual effect used in the animation process is a time-lapse or stop motion. With the development of technology, the production process now does not require actual drawing and can easily be handled with whiteboard animation software.

This video style has been used by marketers for quite a while. The first ones were the UPS Whiteboard Commercials, and they looked very different from what we are used to now.
Why is
whiteboard

animation

so popular?

You can see whiteboard animation style to create product demos, explainer videos, educational presentations, and many other forms of visuals. What makes this style so popular among marketers, educators, and business owners alike?
Whiteboard

animations are very focused. They are normally created to convey a specific m message, and this they can do well. Since the only means of expression that they possess is a

whiteboard

and a marker, the message comes across as uncluttered. This helps make it heard clearly.

Whiteboard

video

style is universal. One can use this

animation

style for just about anything: from bank commercials to history lessons to onboarding videos. Such pieces can be fun or serious, short or lengthy, but what they all have in common is that they stay clear and understandable to the audience.

Whiteboard

animation

is clear. Even if your audience speaks different languages, they will still understand the

video

made in this style, without any words. This is the power of visuals based on recognizable symbols and common knowledge.
Such videos do PR for you. When made creatively,

whiteboard

animation

videos become a great PR tool. If the audience loves it, they will share it across social media channels, spreading the word about the product or service. According to multiple studies, people tend to share videos that cause deep emotions like amusement or contentment.

Whiteboard

videos are cheaper to produce. With companies on a tight budget,

video

production cost plays a significant role. If your company would like to incorporate

animation

that will not cost a fortune but would still be an effective marketing tool, this style is a great choice. Due to the specifics of visual representation,

whiteboard

videos tell a story just as engaging and effectively (if not more) as other animated videos. At the same time, since they do not require particular detalization that other animated videos are popular for, they do their job just fine.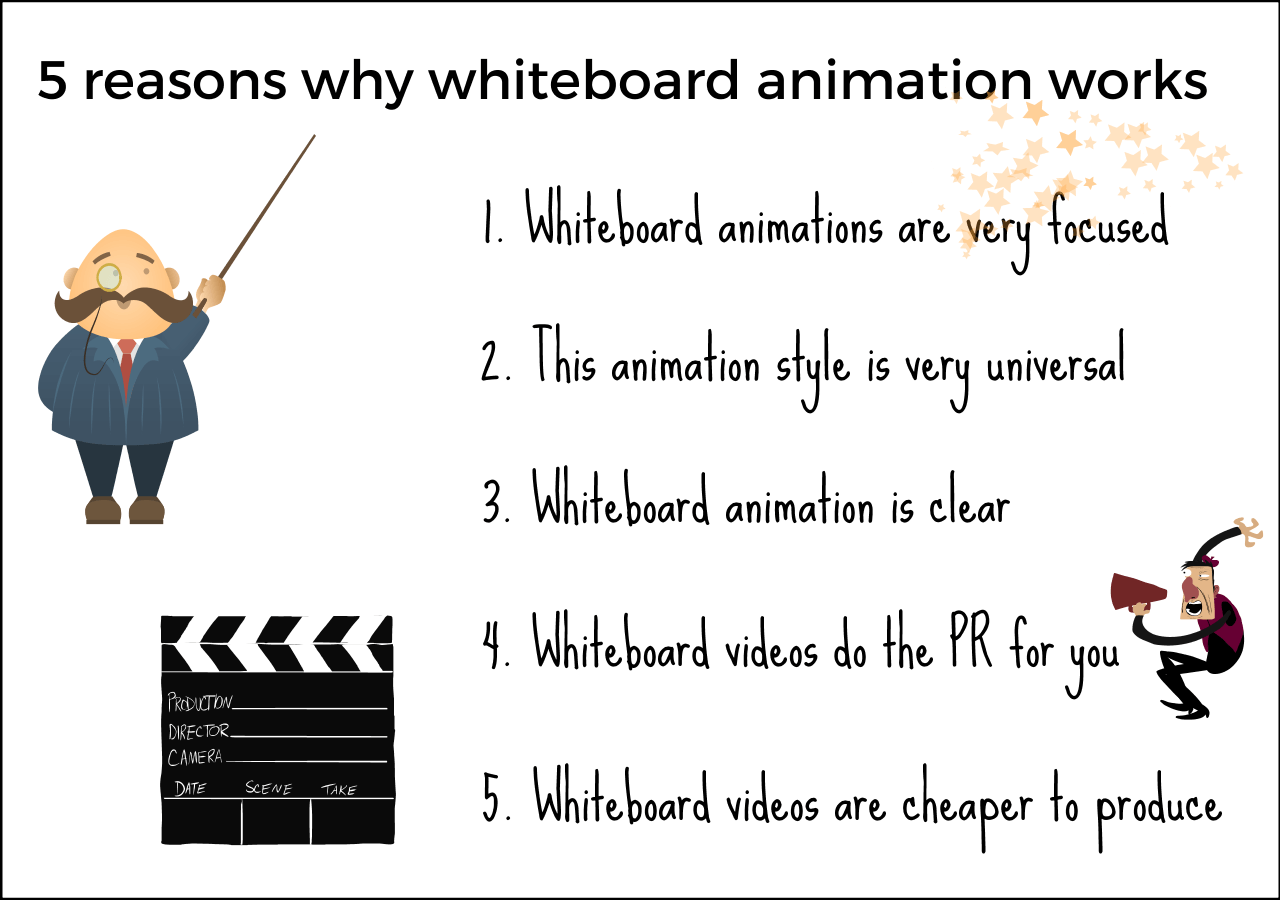 How to create a
whiteboard

video

in house

Whether it's a whiteboard video or another type of animation, there are certain steps one should follow in the process of video creation.
Start with a script
Be it a whiteboard animation or a regular live video, every story should start with a script. There are a number of great articles that provide pieces of advice on how to create a killer video script and create texts (you can read about it on EduBirdie), but normally every script would follow these steps:
Outline a problem. For instance, John needs a new bike but doesn't know where to find it.
Offer a solution. "After hours of searching offline stores, John goes online to find the best bike seller in his town. This is how he stumbles upon Marvelous Bikes. The bike was delivered next morning; it had two wheels, handlebar and pedals – everything one can dream of. John is heads over heels with his new bike!"
Place a call to action. "If you are just as tired of looking for your perfect bike as John are, go to marvelousbikes.com to find your perfect match".

Come up with a
storyboard
Follow the script that you created on the previous step to draw a sequence of key scenes. Think of the storyboard as a graphic organizer for your whiteboard animation. A storyboard seems to be avoided by many companies and video produces, especially when using ready-to-use content. However, creating a storyboard should be a part of your video production process because it helps you to stay organized, gives you the sense of pacing and links images and voiceover.
It shouldn't be anything fancy or long. A schematic outline of how the story goes will do just fine.
Voice your story
Since whiteboard animations are more limited in the means of expression than regular live or 2D/3D animated videos, voiceover and music are extremely important for the video to do well. Therefore, do think about purchasing professional recording hardware (a Snowball mic from Blue Microphones might be a good choice). Other simple pieces of advice on how to record voice include: avoid using multisyllable words (if it's hard to say, it's hard to understand), do your rehearsal and take it slow.
Animate!
Choose the software to produce your whiteboard animation. If you are just starting creating your animations, go with something easy to use like Animatron. There is an option to drag and drop pre-animated characters on canvas, add effects and music, and you're done.
For a more sophisticated approach, you might want to check YouTube for tutorials and helpful guides.
Once you've finished creating, don't forget to share your whiteboard animation across all your social media channels. Another good option is to email it to your subscribers. Let people see your amazing animation!